By: Jean-Paul Collet, Michel Vanasse, Pierre Marois, Maxime Amar, Joanne Goldberg, Jean Lambert, Maryse Lassonde, Paule Hardy, Josée Fortin, Stéphane D Tremblay, David Montgomery, Jacques Lacroix, Ann Robinson, Annette Majnemer, and the HBO-CP Research Group
Introduction
Cerebral palsy is a collection of diverse syndromes characterised by disorders of movement and posture caused by a non-progressive injury to the immature brain. There is no known cure. Hyperbaric oxygen has been used by several centres in the USA, UK, and Canada to treat children with cerebral palsy. The rationale for this intervention is increased oxygenation of the cerebral ischaemic penumbra. Reports of successful treatment have circulated among the families of children with cerebral palsy who have asked for this treatment despite the lack of scientific evidence of efficacy and possible sideeffects.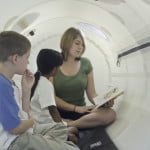 After a pilot study, we did a double-blind randomised clinical trial to assess the efficacy and safety of hyperbaric oxygen for children with cerebral palsy. The primary objective was to determine whether 40 treatments could improve gross motor function and to verify whether any improvement persisted for 3 months after the end of the intervention. Secondary objectives included assessment of the effects on performance in activities of daily living, attention, working memory, and speech and language.
___
Hyperbaric Chambers for sale on eBay
___